You Snooze, You Lose
"If you want to get a job in one the best units in the world, be prepared for toughest training and accept the most distressing sacrifice."
My friend Tylut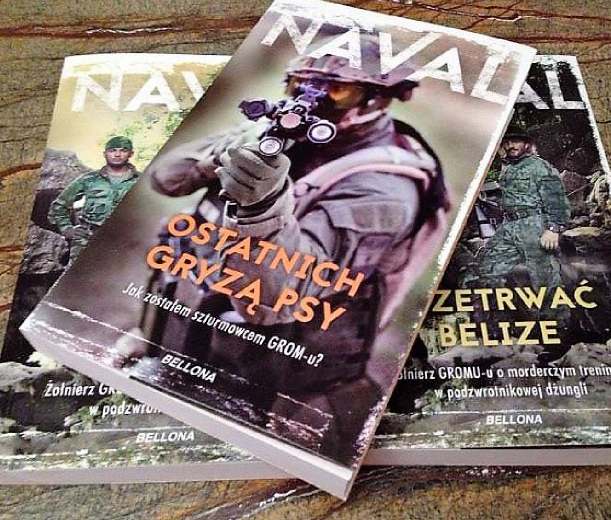 3. THE SELECTION
Promptly at eight a.m. the front gate opens and each of us, after his name is read aloud, is allowed to enter the yard. There are some already known to us black Merc cars and an ambulance parked there. No effusive reception. We are harshly ordered to form a row according to the name list. The instructor announces another part of selection, which is the altitude test. Nothing extraordinary, at least so it seems. You have to climb up a metal ladder leading to the top of a 25-meter tower, and then zip-line down. A mere test of bravery, nothing else. Waiting for our turn, we admire the successive daredevils. Nearly all guys before me passed the test. Lieutenant, or rather Captain, Kania waits with me. This is quite surprising, but everyone who wants to join GROM has to go through the selection, and he can be no exception. Suddenly we were somehow made equal here.
I'm putting on a climbing harness. I've never seen anything like this before. It strongly resembles a parachute harness. They strap a carabiner and a lifeline to the harness. The instructor explains, step by step, what he's doing and what is the purpose of what he's doing. Then he points at my climbing route up the metal ladder. Oddly enough, such an extensive lecture makes me feel safer, even if I begin to climb unsteadily, trying all the time not to lose my footing. My arms are strong enough, so I made use of my legs only for static belay. Finally, as I get halfway the route, I feel the pumping of blood in my arm muscles. Well, I will have to engage legs too. And so, rung by rung, I'm making it to the top. Climbing the tallest cherry tree in my uncle's orchard was like peanuts compared to this tower. Meanwhile on the top platform another instructor fastens two more lines to my harness using a monster-size carabiner. One of them is permanently secured to the Star truck parked below; an instructor on the ground clutches the end of the other. His job is braking the daredevil who is rapping down. I didn't think twice. A leap – and in a few seconds I am scrubbing my ass against the concrete parking lot. After this test a few guys called it a day and decided to stay out of GROM. Those who succeeded even say they enjoyed it, a good fun indeed.
There were ninety of us left. We were to report next day in Krynica. This message was communicated to us, doors of the Merc cars were slammed and we were again left to ourselves. "Which of the two Krynicas?" somebody asked. For a moment we began to feel anxious, but since mountains were mentioned, they rather didn't mean Krynica Morska, situated by the Baltic Sea. I knew where Krynica is because my grandparents lived nearby. However I had no idea how to get from Bemowo to the railway or bus station. A guy who comes from Warsaw reciprocates my wisdom on Krynica by promising that he would not let me perish in Warsaw, and since I know the exact location of Krynica, we, him and me, could get there together. Another guy, this time from Gdańsk, overheard our conversation, so we decided to join our forces and travel together. We began to talk about the equipment, and I realized that I have forgotten a very important item, namely a tent, or at least a groundsheet. Where will I sleep then? One of the guys, who did not pass the altitude test, hands me two big blue plastic garbage bags. He conceived he would sleep inside them not being soaked by rain. I take this for granted and thank him a lot.
There is an indirect connection from Warsaw to Nowy Sącz; we would have to change in Cracow. At the Cracow railway station we meet several dirty and limping dudes who smirk at us. When asked where they are returning from, they seem reluctant to explain, you will see for yourselves, they snap shortly, and walk away with a limp, carrying their backpacks cocked strangely to one side. We arrive in Nowy Sącz in the evening, so I invite my new mates to Gołkowice. My uncle strengthens us with homemade fruit liqueur and in the morning he drives us to a bus stop. We travel to Krynica by bus, proud of ourselves and after a good night's sleep. But the first guys of our pack hardly had any chance to sleep as there were no benches at the railway station.
When I was in the army, I got used to the constant stress, constant screaming and constant bullying. The fellows who were waiting for us in Krynica sounded really calm, but they never indulged in repeating anything twice. Anybody who did not hear or who came late is scratched off the list. They greeted us with only a few straightforward words: "It is you who've got to want!" And then they only kept saying again and again: "No pushing too hard, dudes. And actually why would you suffer? We can drive you to the bus stop any time."
On the first day there was no soul interested in being given a drive there. The instructors exuded unusual calm and composure. And great force too. They didn't have to bring pressure to bear on anybody, neither did they have to threaten or scare. It surprised me that they didn't demand from anybody to take extra kilos, making it quite clear: you can take with you whatever you want. You want to sleep on the ground with no roll mat or no sleeping bag? It is only your own choice and your problem. You are to survive the night and you must be prepared for another day of marching. But all the same we were carefully searched, any vitamins or combat rations were confiscated. We were also thoroughly examined by a physician who checked our pulse rate. After the medical examination there was already one candidate to be driven away, one of the more aged men, apparently a well-known officer. Then they handed out pieces of string, each with a card attached. Numbers on them are to be our signatures, so we were said. From now on we are supposed to use only the numbers in successive subsections. Marching in twos was strictly banned. "The selection is only for individuals," we heard. Our starting point marks a beginning of the route; we should just stick to the trail and march on. We were given no information where the route ends either.
So my time has come. Number thirty-six forward. I would love to run from the very beginning but around the bend a steep slope suddenly emerges, with many fallen trees at that. Climbing it seems an endless feat. Very often I am forced to move literally on my knees, which is better than constant sliding. You know how it feels when you march – your backpack grows in weight. Rumor has it that if one's backpack is too light, one will be handicapped with some extra kilos, but in my case there was no need to weigh me down. What, on earth, was I carrying inside?! But I moved on, happy that I was given the chance. All the time I thought I would be rushed on and hurried, as I used to be while in the ranks, but here hardly anybody was taking any serious interest in me, which is very discouraging! On the checkpoint I encountered only indifferent instructors who only rather casually wrote down my number. One of them reminds again us that it is strictly forbidden to march or run in pairs, everybody is to move solely on his own; the rules are that you can be cautioned only twice, a third miss and off you go, chum! But in every large group, like ours, there is always plenty of clandestine whispering in dark corners, so before we started, one of my fellow-runners shared with me the information that there are some fake candidates among us, set up by the organizers. In effect, no one exchanged a single word with anybody during the march. While passing another runner, I never say "hello!" trying to keep the distance.
After making it up that fucking mountain, I feel relieved as the terrain got smoother, so whenever possible I try to run, and dashing down the sloping edges I keep up a frenetic pace. Now the backpack is pushing me down. I mastered the art of hiking trails when I was a scout, and in this area very the colored markings setting the trail are visible on trees every several dozen of meters, so it is altogether an easy gig. I started as the 36th runner, but today I am fifth at the finish line. I can't remember if anybody passed me, so far so good, and the pain in my leg became even less acute.
Nobody greets me. Only succinct information that we can encamp behind that heap of bales, this is where I can pitch a tent or whatever, and the can there, just over there, lads, contains water. In my case the encamping consisted of taking two big garbage bags out of the backpack. But what about the grub? Nobody is calling us for nosh. We were only allowed to go to sleep, or rather no ban for sleep was announced. There are quite a few of us, but nobody utters a word about food; well, okay. I pack myself to my bags along with the sleeping bag, I don't even take my clothes off, only the shoes. I contrive a following system: I slip my legs into one of the bags, and then I put the other bag over my head and arms, so it feels like inside a vacuum flask. But soon it gets stuffy. I rip a small slit in the upper bag to let the fresh air in. Perfect. The ground is soft, so it is possible to doze even without a sleeping bag.
I wake up after midnight, wet and cold, shivering all over. A bag doesn't pass the air through, so anything I have evaporated condensed inside it. I'm soaked to the skin. It doesn't make sense to lie there and shiver. I have to stand up to warm myself up. It turns out that I was not the only ill-equipped pioneer. Some of the guys have slept with their clothes on; I can see another dude also trembling with cold. I squat. Maybe I'll be able to get some sleep in this position. But the sleep is not coming. The minutes drag on in the quiet of the night. Meanwhile the "frosties" grow in number. We trot around in circles, doing sit-ups and hopping. We are forbidden to build a bonfire, which would probably solve our nightly cold problem. But the morning mist wakes up the rest of our pack. I only dream that we are ordered to march on.
I was chilled to the marrow; in fact I have never felt as chilled as that morning. If I felt cold before, I always had something to warm up. Getting cold or becoming overheated is usual in the army. From one extreme to another. One July night, while were training in a wood near Warsaw, we were caught in a slight frost. And then again, this time in the Afghan mountains, a sudden change of weather gave us a hard time. Chemical warmers saved me then. But when we boarded ships in the Persian Gulf, it was so hot that proteins in our blood literally coagulated, I swear. However I have never taken such a hell of a hit like at that first GROM selection. I could not wait for the morning and anxiously looked forward to hear the order to continue the route. To tell you the truth, I was so numb and so freezing that actually I couldn't then reconstruct in my memory what was going on. One of the instructors approached me to advise that I had better resign and be examined by the doc. But his words shook me out of my numbness and mobilized. I decided not to seek medical attention. If I were to drop out, it will never be through my own choice!
At last the long-awaited morning broke. During the assembly I tried to look away from the doc. He is preying for his next victim, I thought. The instructor, in casual tone and yawning, points out our today's route, encouraging all of us to withdraw, because, as he makes it clear, it will only get worse later on, and "there is no sense to suffer, guys, is it?" A handful of those willing to resign decided to stay in the start zone. After the assembly each of us received two tin cans, wafers of some sort and a chocolate to warm up, but there is no time for breakfast. 'You'll eat on the way."
Another successive day means successive kilometers, alone. But I am glad I can at last go off. I seek sunlight in clearances among clouds to feel, at least for a brief moment, its magic power. I spread the unfolded sleeping bag on top of my backpack to dry up. It is soaked with water so I have to wring it, but still quantities of water are pouring down from it. So I continue the route, dragging along a greenish veil. My breakfast consisted of the contents of a tin can plus water. I feel so cold that my thoughts are rather not with eating at all. Around midday I'm approaching a clearing of some sort. It is only then that my body temperature returns to normal; for a brief time I give some respite to my legs, and fortunately the sleeping bag dries up. I am so dumb that I even have no idea if anyone has outrun me. As to myself, I certainly didn't outrun anyone. Meanwhile I see that the clearing becomes a safe harbor not only for me. But we keep distance from one another so that no one could accuse us of old-boyism. We are, but in fact we are not. Or whatever. I am muddled by tiredness but otherwise I'm chomping on the wafer. Finally I revive and the sleeping bag almost dried. I'm hungry, therefore I'm alive.
This is a long day indeed. If the trail leads downhill, I don't push it too hard. Running uphill, I am happy that I am hot, huffing and puffing. Meanwhile the day became hot, so again – fit is from one extremity to another. However, I feared the night and cold more than a possibility that I may cook in the sun, making it to the next top. I can smell the bonfire, and then I hear the clattering of canteens, I reached the camp.
"Your number?"
"Thirty-six."
"Food is issued just over there, from the Star truck, and then you can go and camp out."
Time for grub, that sounds okay, but camping out? What does it mean in my case? A grinning dude distributes food rations from the Star truck. I'm issued rice wafers, some canned meat, a bar of chocolate and condensed milk in a tube pack. There are times in an infantryman's life when the hated tinned food, nicknamed "monkey", tastes delicious.
In the evening I cut a deal with my former commander. Kania makes an offer: I can sleep along with him under his big tarpaulin canvas, of the kind you see spread over market stalls, but on condition that I carry it along. A co-owner of the canvas is some other officer, so I guess I'll spend the forthcoming nights with both of them. But although I would be running loaded with some extra kilos, I can hope for some decent sleep at last. The evening was bright, and this time we were not allowed to build a bonfire and dry our gear. […]
The night was hardly a picnic, the snails are almost fried, when all of a sudden there is a swarm of exploding bangers around, also the sound of some shooting, thunder of heavy guns. We were given just two minutes to get ready for a night march.
"This is a timed run. You begin from crossing the river and then you speed on in the direction of the lights; anybody willing to quit?" This is what we heard.
Two of us stumbled forward.
Our camp was just around some riverbed, and the river itself, after massive showers, has overflowed in the area. We were ordered to run all together, and indeed, our first task was to cross a ten-meter water obstacle. It proved to be rather shallow, with water reaching just above knees. I was one of the first to cross it. And in fact the river proved not to be worst thing. Having crossed it, I got bogged down, an unexpected marsh nearly sucked in my left foot. I struggled as if were trapped in quicksand, but in the end my left leg got stuck nearly waist-deep in mud. Finally I managed somehow to clamber out of the trap. Angry at the world I rushed like mad towards the car lights, which were supposed to be our finish line. I am mad with rage and I race really fast, not being overrun by anybody, I believe. Seething with anger I covered the remaining three-kilometer distance like a sprinter, thinking that I will probably arrive first, as I didn't notice anyone in front of me. But as I pass the dazzling car lights, I'm stunned. How long I must have sloshed around in that marsh, to be the seventeenth, and I am to give a next instructor another number – eighteen, so informs me the sixteenth. However, I still made it in time (unknown to all of us), as we were not said a word on what time limit was set. Those who failed were given a bonus in form of a warning. We went to sleep just as we stood, drenched to the skin and muddy all over, forming a big pile of bodies. Enjoying the warmth of the canvas, and even though I had nothing against carrying it all along the trail, I was half asleep when I heard the sound of someone's horrible snoring coming from the left flank. Fuck it, I am going to have a god night rest indeed!
In the morning we assemble in deplorable state. All of us bedraggled, covered with mud, our eyes black-ringed from lack of sleep. But there is some good news. Food will be issued. I always like to put aside some reserve but this time I devour all. My new mate from Gdańsk is a veggie and while we stayed at my uncle's house at Gołkowice, he sucked down bread and honey instead of enjoying the taste of homemade bacon. But here he is happy to scoff down pork pâté!
Before the start we are given standard instructions – we are to keep to the trail. Full stop. I move on very carefully but I got weaker and it seems I have not enough stamina for running down the hills, squandering my strength and energy. I approach a large clearing from where several paths begin. I look for anybody to ask for directions, just a little secret conference on in which direction I am to continue. But since I can see hardly a soul around, I just march ahead without looking back. I find some path, which soon becomes a narrow muddy track with tractor tire marks. As usual in the mountains going down is always easier than climbing up, so I chose the former. Hell, some farmsteads. I reached rather blithely a deserted (at first sight) village. We were forbidden to approach anybody, true. But I begin to panic slightly. I got lost, where am I? A woman milks the cow in a field, so I ask her if she saw any military nearby.
"Yes, I did, just over there, in the mountains. They have some sort of training, but don't go there all alone, as there were some wolves around this spring."
I turn around and look back. I stand at foot of a big slope, which sparkles with all the colors of spring. It is so quiet, no birds singing. Where in hell am I? I know that there is a mountain trail in the south, marking the borderline between Poland and Slovakia. I set the compass reading, I have no map, but it would't be of any use in this jungle. I'm heading straight south, remembering to mind the borderline.
Walking downhill was nice indeed, especially along the path, but now I was going to perform a cross-country, which I practiced during the climb on Peryha Mountain. Meanwhile I feel that my backpack weighs me down. It literally pins me to the ground when I have to crawl on all fours under wind-felled branches scattered all over the terrain, like in the Jurassic Park. I charge some of them from above, and others from down under. You don't traverse mountainous terrain in a straight line, but I have no other choice. I trudge along through dense bushes and nettles to wade in the next moment in some wooded ravine, and after a while, sinking knee-deep in mud, I approach another slope. I find I have been struggling through for three hours or so already. But I don't give up, I just continue, what else can I do? All of a sudden I tread in a big shit, it was really too much for me. Mommy, where am I?! Tears well up in my eyes. Maybe it was not a wolf that shitted here, but I bet it was some bear that left his ecological footprint. My mind begins to exaggerate things. I continue in a hurry for several dozen meters, trying to move away as quickly as I could. I start to yell. "HEY! CAN ANYBODY HEAR ME?" There is nothing worse than panic, my voice begins to sound croaky and then weak, but it is only silence all around; silence and myself. But after some more yelling I hear–
"Fuck you, why on earth you're bawling out, can't you see that we are on the trail?" What a relief to hear a juicy Polish curse. I was saved. That response came from one of the candidates, a dude like me. So now I can carry on, as if nothing happened. Covered with dirt, stinking all over, exhausted, with stain of dishonor because I lost my way, and with a sole of one shoe smeared with shit, but conscious that I'm back in action, I'm now following him twenty meters behind, if he has not lost his way so far, I can trust him. I have enough for today.
But my troubles continue. Somewhere, in the midst of my struggle with local shrubs and weeds, I lost my card with the "36" number. As just before 5.00 p.m. we are approaching the finish line, I find to my astonishment that we didn't close the ranks. We were even classified somewhere in the middle of the pack. I immediately own up to losing the card, producing a piece of string that remained. Fortunately, a rapidly summoned board of senior instructors shows the wisdom of a decision and rules that I'm not to blame. I was forgiven and I was issued a duplicate. I now try to find the Captain to camp for my well-deserved rest.
However, several guys were not as fortunate as me and could not find the way. Till late at night the Merc was driving around, hooting aloud and dragging the survivors out of the woods, but not all of them were found anyway. Those who had good times on the previous two days were allowed to distinguish themselves by doing a 10k march. If they make it in less than an hour, let them stay. Unless, of course, they decide to quit, but it is taken as granted here that nobody is forced to anything. So the unfortunate continue to march on, and we are abruptly awakened to meet at the assembly point, as we are to be mentally and bodily united with them. Several press-ups and you can return to your beds, dudes. After a moment – fall in! – full packs and equipment; this time no press-ups, deep knee bends only. Press-ups and bends are okay, but the incessant packing and unpacking really bugs us, not to mention the uncertainty what is still in store for us.
Many of us will painfully remember that day and night. With the arrival of the last participant of the 10 km run arrived, it was a good opportunity to call us for another assembly. Sound off! It turns out that less than half of us remained. A timed run now, lads, a 10 km running distance. And the most frequently, or should I say, the only question asked several times a day is: anybody quits? Now we hear it again.
"Anybody cares for a lift – step out!" And indeed, a few guys step forward, they just didn't make it through those days of intensive training. After their resignation the "close of business" command is issued, which means that the 3 km run was intended to be only a bluff. And the guys who quit at night were driven in the Merc to the nearest bus stop. The rest of us were allowed to go to sleep, no more running was planned.
Some of the guys found the right direction in the woods only late at night, but it didn't matter for them as they were told to return home. In my opinion those who finally reached the end and survived that day deserve to be called tough men, really.
However, we weren't allowed to sleep for too long, being awakened at the crack of dawn. The assembly is interrupted by press-ups; anybody unwilling may abstain, we hear. One guy does. As I am drenched practically all the time, I find it a pleasure to warm up. An orienteering run awaits us today, but still nobody says a word how many press-ups we are expected to do now. Only few of us remained, so it really surprises me that anybody, after a hard day and a sleepless night, decides to quit in the morning. However one guy did. The instructor asks again if there is anybody else to quit, but nobody follows the unhappy one who tottered out before press-ups.
I am often asked if such an endurance test is really necessary. Is there any sense in tormenting young men physically, but more importantly mentally? I still think of the guy who stepped out of line on the fourth day and asked to be driven to the bus stop. He was the last one to quit – if anyone quitted later on, it was because pain caused by injury prevented him from walking. Sometimes the doc forbade further marching for medical reasons, or if anyone lagged dramatically behind, he was removed from the route. But nobody quitted of one's own free will. And this is just the key that opens the door to such Special Forces units as GROM. We need such men who never crap out. During operations in Afghanistan marches were often incomparably harder than those during the selection. It was also out of question to accept the instructor's offer and to be driven to the nearest bus stop, as there were no such offers. And this is just the reason why such weeding-out process like the selection is necessary and why it is of crucial importance. You have got to trust yourself, because you are one of a pack of dudes who don't know, or shouldn't know, the word "capitulate". The selection is for no one else but for ourselves; it is we who are expected to be willing and to want! That is why when we were undergoing the selection, there was no pushing us and nobody demanded anything from us, simply because in the heat of real fight there is hardly time for all that!
We approach one by one the instructor's desk. We are issued a map with two points marked on it. The first is the place where we are now; the other is the destination. In this very instance my Lubliniec stunt of service has prepared me excellently, so the march appeared to me as a walk in the park. Not everyone served in the Lubliniec special unit, though. A dude who was preceding me dashed in the opposite direction: the instructors waited for a while and whistled him back. He received his first warning with a bonus in the form of showing him the proper direction.
To me the task seems easy. I orient the map to the terrain; the upper part is North, no need for setting azimuth, as the graveled road will lead me to my destination. It was easy but all the same is just an appetizer before the main course. Subsequent details I am receiving from the instructor concern descending the hill where we are now, and then climbing a nearby slope. The task doesn't appear to be difficult, but involves traversing through the thickets. From start to finish. And it was only yesterday that I had the pleasure to learn the hard way what Bieszczady Mountains are really like. From above the route seemed quite easy, but struggling through the bushes you can always lose your bearings, so I concentrate on the compass so as not to deviate from my course. Marching downhill is almost always easier, but as soon as you've finished, the climbing begins. I am unlucky to pass through an odd terrain: whatever I touch, it is decayed, or amassed hanging vines will not let me through. Hell, one might as well stay in that tangled web forever. Getting free requires spending much energy. I reach the point to see an instructor who is calmly roasting a sausage over the fire. The sausage has been expertly prepared, notched diagonally, with the fat deliciously dripping down– it roasts beautifully and in a few seconds is ready to be put into a sandwich and be enjoyed. I see that I'm disturbing him. I feel twinges of hunger. He gives me further details and I sit on the ground, about ten meters from him, to eat the contents of my tin can and the wafer.
"Wanna some, pal?" I hear. A nice incentive.
"But how do I repay?"
"You let me give you a lift to the bus stop."
Drove me off, this is what he did. I am not saying a word. I rise up and like I stray dog I walk away towards the nearby shrubs, as far as possible from that lure which is a delicious smell of the sausage. The delicious smell must have disordered me in a way, as I am unable to find the third point on the map. I walk around the clearing and all fits. I do another round, but I find no living soul nearby. Something went wrong? Finally I got it. The two clearings were separated by a narrow stretch of forest, and I picked up the wrong clearing. I struggle though in a hurry, and after getting out of the wood, I see another instructor sprawled on the ground. Whoo, here I am. Another set of coordinates clearly indicates the point, but it I must have turned full circle, so I am probably on the home stretch. Running down the slope I see a guy: limping, he is trying to keep pace with me. But he can hardly walk. After a moment I am being lapped by an athletic dude. One his step are two mine, and if I want to keep up with him, it is my turn to run up.
I can see the camp in the distance. It is three p.m. Surprisingly I am told to pick up a food ration, camp out and wait. Just in time, as I start to feel an incessant pain evoked by hunger. The feeding business is very clever. Our daily rations consist of two tin cans, a packet of WAZA wafers and a bar of chocolate. There's plenty of water in a stream. The trick is that one day your ration is issued in the morning, and on the next day – in the evening. But officially we are fed on a daily basis.
Now I have at least time to care for my feet. They don't look good. Half of my toes are blackish because the nails are black with blood. Epidermal abrasion and blisters on the heels, but happily I can walk, no limping at all, which however does not mean that I am not worried. My shoes have become somehow tighter; was it because my feet have grown? I take a look around. Most of the guys rise up only at the sight of instructors, not to mention the doc. They stumble as if walking on hot coals. I cannot but admire a dude who seems to have itchy feet. He walks about, does some washing in the stream. As for me, I don't care at all. I lie sprawled on the stones and draw strength from Mother Earth and Father Sun.
The afternoon and evening were like a picnic. As usual we were left to ourselves. Those who arrived earlier had more spare time. Rumors circulated that we are to run still another marathon at night, but that was to finish off the selection. Since only a handful of us remained, we began to get to know each other. Nobody feared now that there might be any "moles" among us: after all who would be willing to go through such ordeal only to do some eavesdropping? Well, one guy seemingly knew the instructors and he brings us news. He did his military service in GROM, as a driver.
The marathon started at 1.00 p.m. In accordance with some fucking tradition be begin it from crossing the river. but fortunately the water is only waist high. The instructor orders in a harsh voice: "Go!", completing his command with a nice "See you at the finish-point." We felt really reassured. I would have rather expected an encouragement to quit – after all, does it make any sense to suffer so much?
Each of us has his own particular way for crossing the river. Some prefer to walk barefoot, carrying their shoes; others just swim on from the start. As for me, due to my swollen foot I was unable to put on my normal shoes to wear them loosely, so I decided to run in sneakers instead. But our feet have become rather oversized. I decided hen that I would use my two blue garbage bags. They were more that groin-length. I roped the leaky one, put in my legs in both and sprang forward, holding the bags at the edges so as not to let water in. And it worked! No water leaked inside. And before I have time to take several steps, the soles of my shoes tore through, so after crossing the river I really don't have to worry about stepping in puddles. But I can painfully feel a tiny sharp rock under one sole. The anklebone held loose. I know I made a fatal mistake changing shoes. But as I proceed, I begin to realize that we run like a pack of some sort. Nobody said a word if it is our last day, or not. Neither were we informed about the distance we have to run. So I do nothing but keep on running. I know one thing for sure: we cannot steer off the gravel path, and to put a rush on us, to goad us on, the Merc is following our pack to collect those who are lagging behind, not making it in time. Is it really worth your trouble? These words ring in my head. Is it really worth it, is it really worth it?
Then a gray dawn broke. There some lights far away. Just another Merc, with the headlights on, a card stuck on the door: "do not disturb, just run straight on, keep to the graveled path". So I run or at least I try to run in stages. The pack we formed at the beginning is long gone. I either overtake another runner, or I am overtaken. I have no idea whatever when should I take a break for a little while. Marching on, I eat what I still have left. And then I dart forward. I now enjoy dark chocolate (which I never did before), only that I don't bite off a piece, gobble it up to swallow like I used to do. I place the piece under tongue and savor it. Let the delicious taste obscure at least for a moment the pain in my legs and arms. But my legs are gone, I somehow don't feel their presence at all.
The sun begins to blaze down. Another checkpoint. I ask how far it is.
"Just keep to this track and at its end you will find the instructor in the Merc, you can quit there".
"But suppose that I don't want to quit, which way then?"
"Just the same."
When I approach the Merc, the fellow inside volunteers convincingly:
"You have poor time, so there is no sense for you to continue, and what's the point of going to all the trouble, pal?"
"You can quit right now", the other instructor's words sound tempting.
But I don't want to listen to that crap. I am pretty aware that they both try to pour venom of discouragement into my soul. I darted off, getting the hell away from such advice, or maybe I indeed have a poor time. But after all there are others following me. There is nothing worse than to be left alone and on one's own in moments like this – and the ignorance!
I am so exhausted, I cannot bear it any longer and I ask at the next checkpoint, if we are close to the finish line. Just behind that slope, somebody cuts me short. Okay, I continue, trotting on, but when I get behind the slope, I hear that the finish line is not here but behind the bend over there. Behind the bend I see a long, straight path leading to a wood. I heard many times that the end of the marathon was just round the corner, behind the slope or behind the bend, so I stop asking. The sun scorched my body, or maybe it was not the sun. I kept marching and running on and on. And my feet seem to be dying, they are burning out, I swear. Another checkpoint, and although I keep my mouth shut, I hear:
"Don't you worry, you'll manage, boy, it is already close."
I run out of water and chocolate as well. My sneakers cracked on both sides. My feet are now three sizes bigger than a few days before. The straps of my backpack have literally bitten into my shoulders, but I didn't feel that very pain. It was only after a few moment that my mind registered, what actually? "Don't you worry, you'll manage, boy, it is already close." Still, I didn't believe it.
Behind the bend I saw two parked black Mercs and a field kitchen with a smoke rising. My imagination feels the smell of army style pea soup. Approaching, I can see more details. A table that is all set, and several cases of beer. No one is greeting me and the instructor tells me to climb bank, take my place in the end of the line and clean myself up. Clean up – how funny, I look like a scruffy tramp, I hardly limp, and my face… well, this is not important. I finished somewhere in the middle of the pack, 52 kilometers in eight hours, not bad. Now we can talk openly and I learn that due to good weather the distance was extended by ten kilometers.
We were now to meet Colonel Petelicki, the Commander and the Founder of the GROM unit. He was already then a living legend. We all wait eagerly, excited.
The first to talk with Colonel is the guy who finished first, so one could assume that he was the toughest of us all. After a moment he returns, does not utter a word, turns around and walks away. We are panic-stricken, no one has any idea what happened. The next one is summoned. He returns with broad grin on his face, but doesn't say a word either. He just takes his backpack and walks towards the tables. The others follow, but there is a great deal of uncertainty in the air. Time for me. I walk to the bent. In a semi-opened tent I see a table at which three athletic fellows sit. Their uniforms are immaculately clean. In one of the fellows I recognize our mustached instructor. Now I can see that he has the army rank of Captain. The Colonel is in the middle, and on the right… never mind, I am too tired to guess.
I stand at attention in front of the officers. "Sir, Chief Corporal reporting for duty."
"Why do you want to join GROM?" asks the Colonel.
I felt dumbstruck. I don't think I can answer that question. What actually is GROM?
"I want to be a real soldier," I cut it short.
"What does that mean for you?"
"I was on a mission in Lebanon and, performing real duties, not only drill and sentries–" I stop in mid-sentence. I have no idea how to continue. The Colonel glances at my documents and then at the Selection Chief sitting next to him. Then he nods, his bushy mustache wiggling.
"He is a fine lad, I have his times here, excellent."
They all stood up.
"Welcome to GROM!" said the Colonel and shook my hand with a force that would make many a blacksmith blush. The two other officers, their faces smiling, are giving me a handshake.
I collect my backpack, like my predecessors, and not uttering a word make it downstairs, towards the steps. And all of a sudden something incredible happens – all those fellows who, until now, were as if behind an invisible, impenetrable barrier, shake my hand, congratulating and saying that we all did a hell of a job. They welcomed us in GROM like new friends, long awaited for years. I am given a bowl of delicious pea soup, a roll and beer that here, in this place, stirs my blood. All my energy was gone. I sat on the grass thinking that I am closer to God then ever. I feel like I won the most important race in my life.